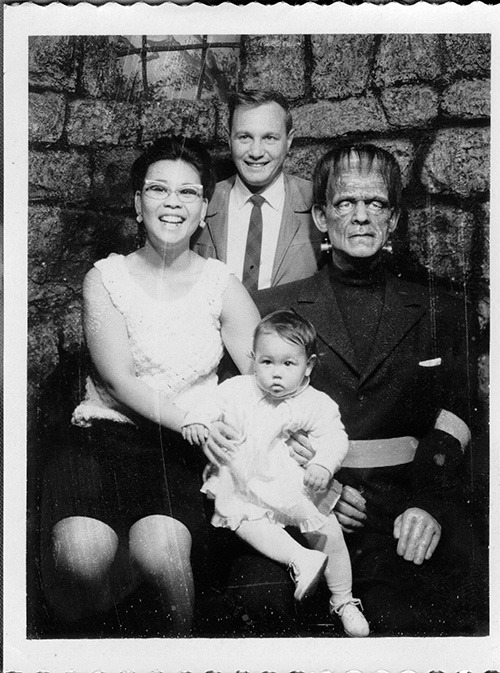 My mother-in-law, Dyane, "Dee," (pictured on the left) passed away last night.  She had dementia for nine years.  Tavisha and I did the best we could to care for her while trying to comprehend just what it all meant.  Just what were we witnessing as we watched this funny, explosively absurd person slowly fall apart?  In a sense, we really lost her nine years ago, when the disease first struck.  I remember she called me on the phone and said, "Something is wrong.  I feel like I've walked into a dream."  That was in 2003.  The day before that call, she seemed perfectly fine, just Dyane, just her usual bizarrely jovial lovely Dee.
My first attempt to voice GIR in 1998, I tried to imitate Dee in the audition, something that, shall we say, didn't work, because Dee is un-inimitable.  When she found out I was voice acting, she said to me, "Oh!  Tell them I want to be a vooooiiiicccceeee!"  It's impossible to copy.  You will herniate your face in the attempt.  Her powers were incredible.
Until the moment has passed, you often don't realize that at any second this could be the last time a loved one derails or exasperates you, and only when they are years into the disease, do you finally begin to comprehend what you've lost.  You miss their strangeness.  You miss the out-of-the-blue debates you had with them about aliens, psychics, ghosts, or whether or not the dove they saw on the way home was the Holy Spirit.  It can be good, sometimes, when loved ones boggle you with nonsense.  If you're boggled, you're alive.  They're alive!  We're all alive together and driving each other crazy!  Hurrah!
When it's gone, you wonder if their ideas go somewhere where they can finally be understood and appreciated.  Somewhere there's an idea about ghosts haunting a bath towel that gets spoken into the wind even though no one is around to say it, and the wind approves, nods its head knowingly and laughs.  I wish I could say right now, "Dee, I don't think these popsicle sticks you've made into runes really predict the future," and have that debate go on for hours like it used to.  I would love that right now.  But that was nine years ago.  Now, I'll have to argue with the wind, and hope it boggles and delights me just the same.  Maybe, if I listen, I'll still be able to hear an echo of her ideas as they roll past the moon.  I think the moon would love Dee.  We certainly did.
Science tells us that the universe is expanding.  Stars and galaxies are moving apart at ever greater speeds every year.  In a hundred billion years the only stars that will be visible from this part of the universe will be in our own galaxy.  The rest of the universe will be too distant for our telescopes.  People like Dee are a galaxy of wonder.  You have to appreciate and love them before they shift out of sight, before they move on to wherever they're going, and all you can see is their dying lights in your mirror, and then just a memory.
Dyane Blackford (born Dyane Hata), was born June 5, 1945, in Colorado, at a Japanese internment camp.  She is survived by her mother Pauline Kubota (94), her brother John Kubota and his family (wife Betsy, and children Samantha and Jake), by her daughter, Tavisha Wendi Wolfgarth-Simons, and by Tavisha's father, Ron Garth, and by me, her son-in-law, Rikki.
Now, if you'll excuse me, I have to go debate with the wind.